What is Basement Underpinning?
Basement underpinning is not lust for added space, but also strengthens your home's existing foundation.
Waterproof Masters & Associates Inc. uses a combination of concrete and piers. With the concrete adding to the overall durability of the foundation.; even If you have no desire to add extra space, it may he required to preserve the structural Integrity of your home.
Underpinning your home and finishing that unused space will add a huge amount of value to the property. With home prices at a record high, it is cheaper to underpin than to buy somewhere else.
Waterproof Masters& Associates Inc can underpin your home at an affordable price and do it safely as we have all the skills and training needed.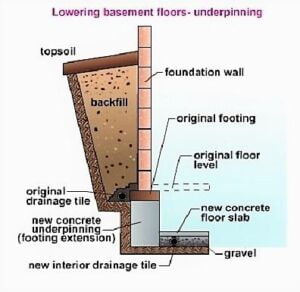 Considering underpinning your home?
If you are considering having your basement underpinned then it is wry important to ask all the right questions, as underpinning can be dangerous If it is performed incorrectly.
Ask your contractor these questions:
Are you licensed?
Do you have all the correct insurances?
Do you need drawings and permits?
Do you need the city to inspect your work?
If your contractor answers YES to all of these questions then you are probably safe but be sure to check all their credentials out before any work is started.
Main stages of underpinning:
Waterproof Masters & Associates Inc. can provide you with contact information for a few engineers if you wish to get your own drawings and permits.
If on the other hand you don't wish to get involved with all the hassle of dealing with the city, Waterproof Masters & Associates Inc. can provide all of the needed drawings and permits.
Typical cost of drawings and permits range between S2500-53500 depending of the size of the project.
Underpinning your home is a big expense and can be disruptive, but the benefits outweigh the disadvantages.
That unusable space now becomes a welcoming, finished basement, with 8-foot ceiling height, which adds square footage and value.
Here is what to expect once an underpinning project is started.
Basement cleared
Basement demolished
Transporter installed into window
Bin arrives for soils
Concrete floor removed
Walls are underpinned by sections
Inspections of all individual sections
Soil is removed and disposed
Interior drains are replaced
Interior waterproofing installed
Sump pump installed
Sewage ejector installed if needed
Gravel installed
Vapor barrier installed
Concrete is poured with trowel finish
Work areas cleaned
Lastly, the final inspection MUST be completed by the City Engineer as well the engineer on site for all documents to be signed off as for the approval and finalized project.
These are the basic steps that you would expect to see as the process of underpinning your home is undertaken. Waterproof Masters & Associates Inc. is the best underpinning company in GTA and the surrounding areas.
About Us
Waterproof Masters & Associates Inc. has been established by offering our clients our revolutionary waterproofing solutions customized to individual needs while supporting budgetary requirements. With over 25 years of experience, our innovative processes have enabled us to have carved a niche in the waterproofing industry and become a household name amongst our clientele of Builders, Property Managers and Homeowners alike.